Bolster greatest 80 voice commands, with each voice 1500ms (a couple of words speaking) Maximum 7 voice commands viably at same time Arduino library is provided Easy Control: UART/GPIO User-control General Pin Output
Overview
ELECHOUSE Voice Recognition Module is a tight and simple control talking acknowledgment board.
This item is a speaker-subordinate voice acknowledgment module. It underpins up to 80 voice directions taking all things together. Max 7 voice commands could work in the meantime. Any solid could be prepared as an order. Clients need to prepare the module first before let it perceiving any voice command.
This board has 2 controlling ways: Serial Port (full capacity), General Input Pins (some portion of the capacity). General Output Pins on the board could produce a few sorts of waves while the relating voice command was perceived.
What's new?
We as of now have Voice Recognition module V2. It bolsters 15 commands in all and just 5 commands in the meantime.
On V2, voice commands are isolated into 3 gatherings while you preparing it. What's more, just a single gathering (5 commands) could be foreign made into Recognizer. It implies just 5 voice commands are compelling in the meantime.
On V3, voice commands are put away in one huge gathering like a library. Any 7 voice commands in the library could be trained as a command. It implies 7 commands are viable in the meantime.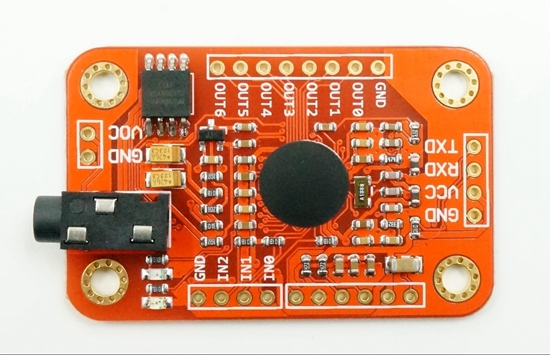 Parameter
Voltage: 4.5-5.5V
Current: <40mA
Digital Interface: 5V TTL level for UART interface and GPIO
Analog Interface: 3.5mm mono-channel microphone connector + microphone pin interface
Size: 31mm x 50mm
Recognition accuracy: 99% (under ideal environment)
Feature
Support maximum 80 voice commands, with each voice 1500ms (one or two words speaking)
Maximum 7 voice commands effectively at the same time
Arduino library is supplied
Easy Control: UART/GPIO
User-control General Pin Output
Document
Product List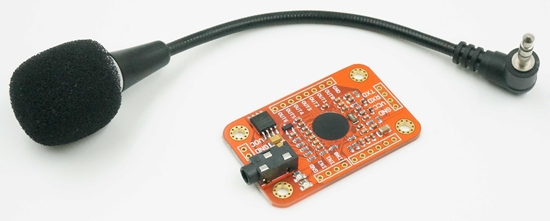 Voice Recognition Module x1
Microphone x1